Pipedream Tutorial 2
This example, again using beta-secretase structures, illustrates a slightly more complex situation which requires specification of extra commands and changing defaults for pipedream.
For this tutorial, the reference structure is PDB id: 3NSH and the experimental data is taken from PDB id 3I25.
| | |
| --- | --- |
| 3i25.mtz | the structure factors as supplied by the pdb for 3i25, converted to mtz format |
| 3nsh.mtz | the structure factors as supplied by the pdb for 3nsh, converted to mtz format |
| 3nsh.pdb | the model coordinates as supplied by the pdb for 3nsh |
---
(A) Restraint dictionary generation
3i25 was soaked with a large and very flexible inhibitor, ligand code MV7.
Once again we need to generate a restraint dictionary with Grade, again using a smiles description of the ligand as input:

grade -in MV7.smiles -resname LIG 

---
The structure that is being used as the "reference" in this case, 3NSH, is not a native structure but has a bound ligand (ligand code 957) in the active site.
So before use, the ligand MUST be removed from the reference structure:

grep -v " 957 " 3nsh.pdb > input.pdb

We are now ready to run Pipedream:
pipedream  -hklin 3i25.mtz -xyzin input.pdb -hklref 3nsh.mtz \
-chains "A B C" -rhofit grade-LIG.cif -xclusters 3 -rhothorough \
-postref -d pipe1

Unlike Tutorial 1, the beta-secretase structures we are using here have crystallised with 3 monomers in the asymmetric unit.

The -chains keyword affects the limited MR module, and tells phaser to move the 3 protein chains independently (the default is to move the entire structure as a rigid body).
Pipedream does not automatically determine number of expected binding sites. The -xclusters 3 keyword is specified to tell Rhofit that there are 3 copies of the ligand to be fitted. The default is to only fit the ligand into the single best site.
The ligand (MV7) is very large (MW ~ 900) and flexible, so we have specified -rhothorough. This instructs Rhofit to run more trials than usual in trying to fit the ligand.
---
The main output file summary.out indicates that the job has run as expected.
The initial refinement has been successful and Rhofit has "successfully" fit the ligand into each of the 3 protein chains. The "best" solution has been post-refined with very good statistics - R = 16.9%, Rfree = 20.0%.
Again, the real test is whether or not the ligand has been correctly fit and refined.
The image below shows the ligand in chains A, B and C.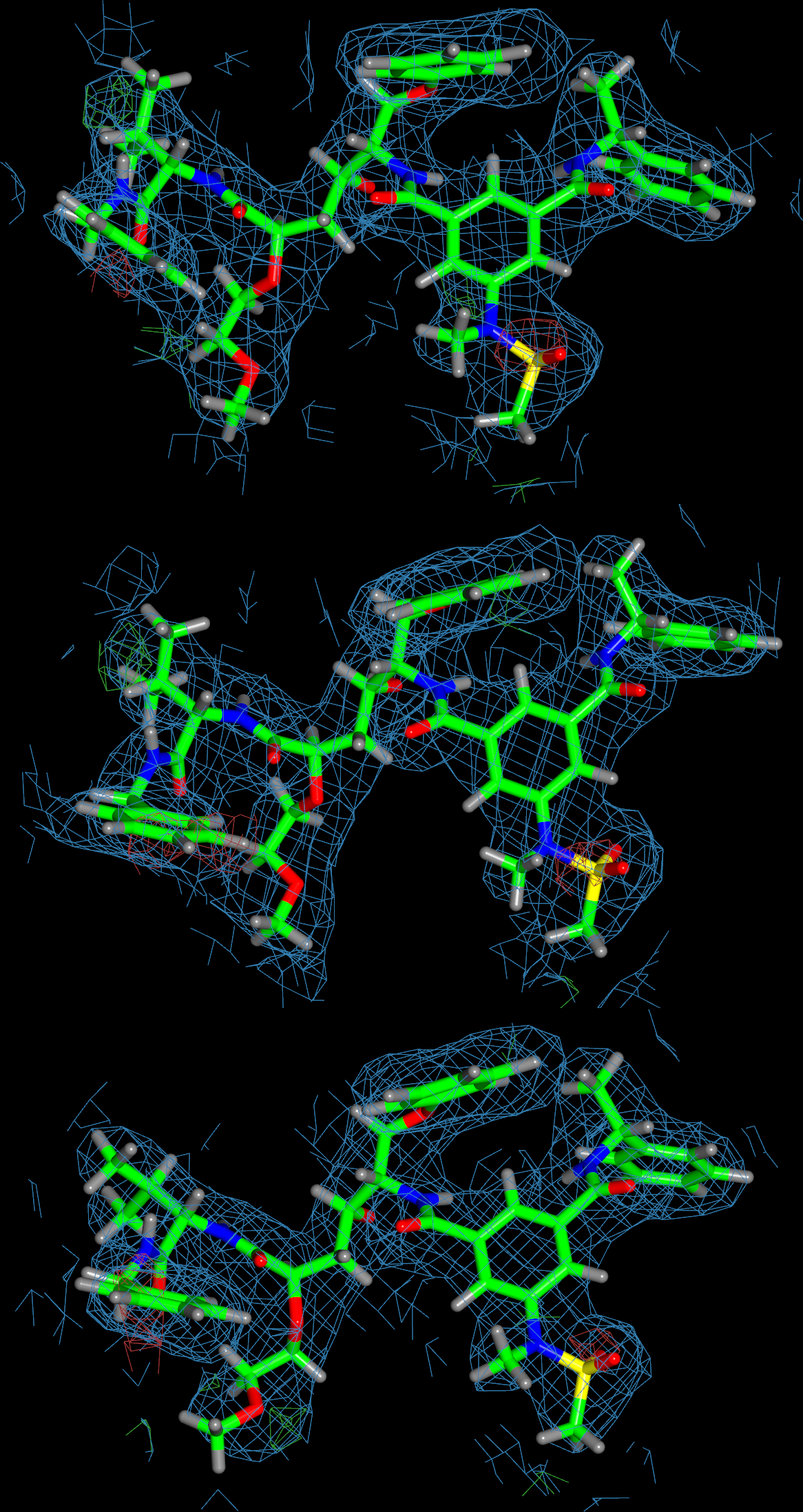 The orientation of all 3 copies is similar and in each case the ligand fits the density (with little difference density present).
Furthermore, they are a good match to the original 3i25 structure.
Look at the buster-report output:
firefox report/index.html

The ligand analysis is good with no outliers and the molprobity analysis also looks good. Again, there is clearly some room for improvement in the structure - this will need manually correcting in Coot and a subsequent re-refinement.