Content
---
Introduction
See also the PDB summary and the paper.
From a simlpe autoPROC run we have 3 datasets (hrem, peak and infl) for a Se-MET MAD experiment.
We also have the sequence of a HasR and HasA heterodimer (13 Met in HasR and 3 in HasA):
AQAEASSAQAAQQKNFNIAAQPLQSAMLRFAEQAGMQVFFDEVKLDGMQAAALNGSMSVEQGLRRLIGGNPVAFRLQPQG
QIVLSRLPTANGDGGALALDSLTVLGAGGNNANDWVYDEPRSVSVISREQMDNRPARHAADILEQTTGAYSSVSQQDPAL
SVNIRGIQDYGRVNMNIDGMRQNFQKSGHGQRNGTMYIDSELLSGVTIDKGTTGGMGSAGTLGGIATFNTVSASDFLAPG
KELGGKLHASTGDNGTHFIGSGILALGNETGDILLAASERHLGDYWPGNKGDIGNIRINNDTGNYDRYAESIKNNKIPDT
HYRMHSRLAKVGWNLPANQRLQLSYLQTQTASPIAGTLTNLGTRPPYELGWKRTGYTDVMARNAAFDYSLAPEDVDWLDF
QAKLYYVDTQDDSDTYSTSSLLDNGYATRTRLRTYGAQAQNTSRFSLAPGHDFRANYGLEFYYDKATSDSSRQGMEGVTP
AGNRSVASLFANLTYDYDGWLTLEGGLRYDRYRLRGQTGLSYPDLAKDGQRYTIDNPCKALRLTGCSTTTREDWDVDRDQ
GKLSPTLAVAVRPGVEWLELYTTYGKSWRPPAITETLTNGSAHSSSTQYPNPFLQPERSRAWEVGFNVQQPDLWFEGDRL
VAKVAYFDTKVDNYINLAIDRNKPGLVQPSIGNAAYVNNLSKTRFRGLEYQLNYDAGVFYADLTYTHMIGKNEFCSNKAW
LGGRLRYGDGSRRGNFYVEPDAASNDFVTCDGGTQFGSAAYLPGDRGSVTLGGRAFDRKLDAGVTVRFAPGYQDSSVPSN
YPYLADWPKYTLFDLYASYKLTDSLTLRGSVENLTNRAYVVSYGETLANTLGRGRTVQGGVEYRF
MRGSHHHHHHGIRMRARYPAFSVNYDSSFGGYSIHDYLGQWASTFGDVNHTNGNVTDANSGGFYGGSLSGSQYAISSTAN
QVTAFVAGGNLTYTLFNEPAHTLYGQLDSLSFGDGLSGGDTSPYSIQVPDVSFGGLNLSSLQAQGHDGVVHQVVYGLMSG
DTGALETALNGILDDYGLSVNSTFDQVAAATAVGVQHADSPELLAA

Initial autoSHARP run
We start autoSHARP through the default (httpd-based) interface and give it the following information for a 3-wavelength MAD experiment:
the sequence file
searching for 16 Se (per monomer)
running up to density modification (we want to do the automatic building outside of autoSHARP)
hrem

wavelength of data is 0.9715 A
reflection file "3csl_01_scala_0.971500.sca"

peak

wavelength of data is 0.9790 A
f' and f" value = -4 and +6 (guessed)
reflection file "3csl_01_scala_0.979000.sca"

infl

wavelength of data is 0.9792 A
f' and f" value = -6 and +4 (guessed)
reflection file "3csl_01_scala_0.979200.sca"
which after 90 minutes gives us a density map to look at: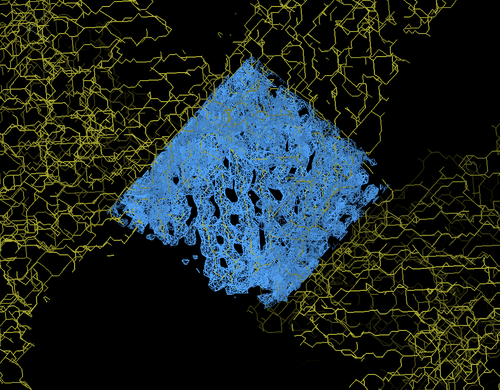 This has very nice secondary structure and seems to show two complete molecules.
Files:
---
Model-building
Feeding those (solvent-flattened) phases into a new tool we're developing (combining density modification using PARROT and model building using BUCCANEER, both programs by K. Cowtan):
%

 ljs -mtz eden_flat_64.8pc.mtz -fast -seq ../../datafiles/3CSL.pir
gives after 30 minutes a model of 1838 residues with 902 (out of 2142 according the HasR and HasA sequence) docked. As a comparison, the PDB entry contains 1832 residues.
Running a little bit longer (just under an hour in total) gives 1869 residues with 1279 docked into the sequence: